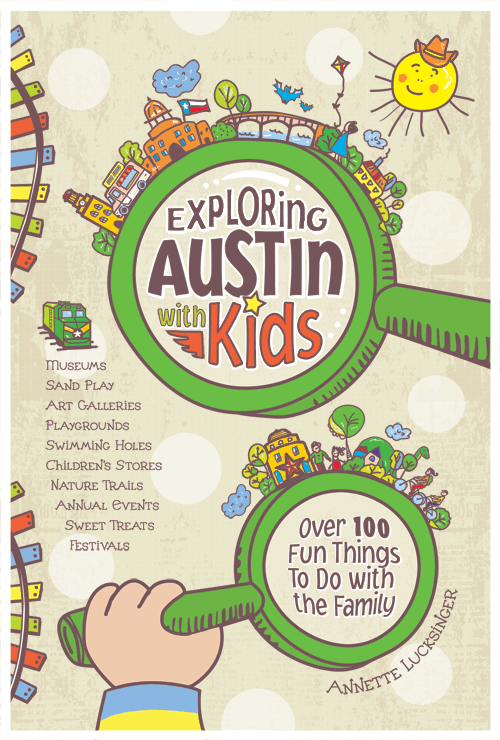 Como ya compartí hace un par de años (¡el tiempo vuela!) Austin es una gran ciudad para vivir con niños. Ofrece innumerables oportunidades para divertirse en familia y estar en contacto con la naturaleza. Annette Lucksinger ha sabido recopilar todos estos recursos de una forma amena y divertida en la guía Exploring Austin with kids que actualmente se encuentra en su segunda edición.
Hoy comparte su experiencia con nosotros: cómo y cuándo surgió la idea, el papel que han jugado sus hijos en esta aventura y por qué escogió la ruta de la autopublicación a la hora de hacer llegar a otras madres y padres su guía de actividades en la ciudad.



As I published a couple of years ago ( time flies!) Austin is a great city to live with children. This city offers endless opportunities for fun for all ages, the trick can be knowing where to find them. Annette Lucksinger shares today her experience about how she published her guidebook and why he chose the path of self-publishing. 
Exploring Austin with Kids: Over 100 Fun Things to Do with the Family
I never planned to write a kid's travel guide to the city in which I live. In fact, I went to the bookstore to buy such a guidebook because I needed one. My son, at age four, decided he liked being with Mom better than going to preschool. So we made a deal that we'd spend his last year before elementary school with some good, quality time at home (to appease the homebody in him), balanced by doing fun things together around town (to appease the explorer in me). Unfortunately, the book we went to get had not been written.
So Exploring Austin with Kids: Over 100 Fun Things to Do with the Family began simply with an idea to fill a need. We left the bookstore with much more than we bargained. Instead of getting a book, we took home a project.
While I was thrilled at the prospect of getting out to write and explore the city, the first step was to determine: was there a market? Surely, I thought, there are other parents in the same boat, looking for fun things to do with their kids. I heard their voices all the time – on playgrounds, in libraries, at play dates. They compared notes about the shadiest parks, which library story times were best and where children musicians would be playing on the weekends. I remembered, too, my years as a new mother when the city changed with the birth of my first child, leaving me to feel lost and ungrounded in my old stomping grounds as I searched for a new path as a parent. I felt fairly confident that I would not be alone in wanting a guidebook to help. So I started scribbling down ideas, talking to friends, researching, and compiling my own list of "things to do and places to go."
Then came the fun part: exploring together, taking notes, shooting photographs, writing drafts, finding my voice, editing, and getting back out there to explore even more places, honing my writing skills with each entry. Three years later, despite the evergrowing list of just a few more places to see . . . I imposed a deadline for the writing to be
finished. Recognizing the relatively small market for my book, I chose the self-publishing route and it was then that my team broadened from family and friends to include the support of editors, graphic designers, web designers, programmers, and printers.
Collaborating with artists, I watched my vague ideas about making the book as local as possible take shape in the design and cover art as generic cityscapes morphed into Austin scenes and iconic buildings. I learned to catalog, organize and index a book – with the doubly critical eye of both a writer and a mother who wanted to find information not only by a location's name but by my children's ages and seemingly peculiar childhood hobbies and interests – like dinosaurs, trains and creek play.
Another perk to self-publishing that had not occurred to me until far into the process is all of the relationships I would create as I sold and self distributed the books. Returning to many of the places I had written about, this time as a seller rather than a customer, I have met the passionate people behind the toy stores, train depots, bookstores, zoos, museums and nature centers who create the Austin we love.
My son and daughter delivered the books too, and we're on to the second edition – before they grow up too much.

Thank you so much for sharing your experience with us Annette! We wish you the best on this second edition.
Contact & Social Media