MORE THAN 30 YEARS PROMOTING NON FORMAL EDUCATION IN AUSTIN, TEXAS.
May 11, 2015
It was the Austin Children's Museum (1983-20013) but in December of 2013 it became the Thinkery.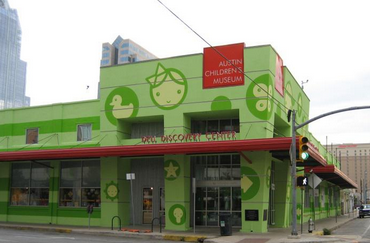 I started living in Austin the summer of 2012. One year later, and after 7 years working at Micropolix (Madrid, Spain), I really wanted to visit the Austin Children's Museum because I had heard much about it! When I was there, at the Second Street,  I liked what I saw but I missed more activities and programs for children over 8 years. I felt that project had a great potential despite it has been operating over 30 years.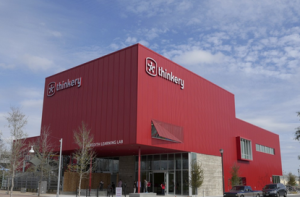 In December 2013, the Museum opened in a new location. I was looking forward to know more about this new concept . I contacted the Director of Education, Robin Gose, who received me very kindly, ready to talk and show me the facility.
I have to say that I spent a great time with her. It is always a pleasure to meet passionate professionals and people that make you feel comfortable no matter the language or the time that the visit takes ( in spite of having a very busy agenda!). Thanks Robin!!!

 THE CONCEPT
What is Thinkery? What is different from the Austin Children's Museum?
Thinkery is a museum. It's a nonprofit organization that offers educational programs focusing on Science, Technology, Engineering, Art and Mathematics. The museum offers hands-on learning opportunities that allow all visitors to interact in different areas of its 40,000 square feet. Thinkery keeps the essence of the Austin Children's Museum but it incorporates new programs that make it attractive to a wide range of visitors, from babies to adults. The key, divide spaces and adapt the contents to the different needs and interests. The facility also has an outdoor park.

THE TEAM 
Who works at Thinkery?
Thinkery believes it is important to have a staff working at the museum and making visitors feel comfortable and enjoying their experience. Although most of the activities run without monitors -and also without too many explanatory panels (which allows children and adults to explore without limits) you can always find someone with a red shirt looking forward to helping you.
The staff is integrated by educators, scientists and professionals working at museums. All of them have something in common,  they love working with kids and teens and they appreciate STEAM (Science, Technology, Engineering, Art and Mathematics)
Volunteers and interns complete the team.

 VISITORS & PROGRAMMES
For whom? What can you do at Thinkery?
The museum has different areas specifically designed for different ages and groups taking into consideration their needs and interests.
Baby Bloomers for children age 0-3 and their families.

Area and activities for kids age 

3- 8.

Area and activities for kids age

8- 12. 

Volunteer opportunities for 12-18.
Thinkery 21 for youth and adults over 21.
They also offer Spring and Summer Camps, Family Night, Workshops, Events, Birthday parties… You can take a look to its website.

 SCHOOLS & TEACHERS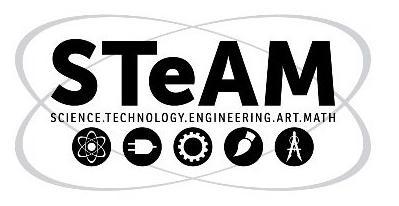 Thinkery complements the official curriculum in the areas of Science, Technology, Engineering, Arts and Math.
From Tuesdays to Fridays schools can enjoy this experience with a museum guide. While always accessible and inclusive of children with special needs, once a semester they provide specific programs for this population.
It is also interesting the program that they offer to 20 teachers every school year. EdExchange empowers educators to use technology and innovative practices in diverse learning environments to inspire science, technology, engineering, arts, and math education for their students.

LANGUAGES 
English, Spanish… Does Thinkery have a bilingual offer? 
In a country, especially in the state of Texas, where learning Spanish is growing, Thinkery has integrated this second language through posters, printed materials and bilingual staff.  The main demand is still in English but there is increasing interest from schools and families to participate in bilingual experiences at the museum.
[ess_grid alias="Thinkery"]